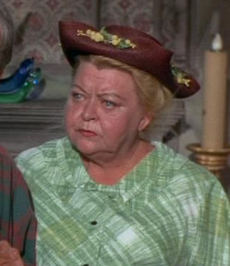 Doris "Ruthie" Ziffel is the overbearing wife of Fred Ziffel and the "mother" of Arnold Ziffel. She helps her husband run their pig farm and also serves as a homemaker.
Petticoat JunctionEdit
Green AcresEdit
Return to Green AcresEdit
By the time of the events in Return to Green Acres, Doris along with her husband have passed away and are the only confirmed deceased characters. Their tombstones are briefly seen being visited by Arnold who leaves flowers for his beloved parents.
Behind the Scenes
Edit
Originally Doris was played by Barbara Pepper who early in her career was a stunning actress who worked in several forms of media. As she grew older, she gained considerable weight and began playing motherly or grumpy elderly roles similar to Doris. Despite a long career, she is best remembered for her role as Doris Ziffel. Barbara eventually left the show due to heart problems and was replaced by Fran Ryan who took over the role of Doris for the remainder of the series.
During her early appearances on Petticoat Junction, she was called Ruth Ziffel, or "Ruthie" by her husband.
Ad blocker interference detected!
Wikia is a free-to-use site that makes money from advertising. We have a modified experience for viewers using ad blockers

Wikia is not accessible if you've made further modifications. Remove the custom ad blocker rule(s) and the page will load as expected.