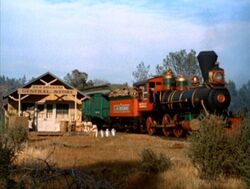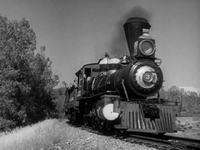 The Hooterville Cannonball is an old little locomotive run by Floyd Smoot and Charley Pratt, and it is the pride, joy, heart and soul of Hooterville as it is responsible for ensuring the economic and social stability of the town by helping not only with escorting residents to their destinations, but by also delivering valuable goods, bringing customers and tourists to Hooterville and securing the stable trade between Hooterville and Pixley (and presumably Crabwell Corners as well). Without it, the town would suffer heavily. The train itself is the property of the C.&F.W. Railroad and it is begrudgingly overseen by the uncaring vice president of the railroad, Homer Bedloe who will stop at nothing to put an end to it and its unprofitable existence for his company.
In Return to Green Acres, no sign of the Cannonball is seen and the train tracks are nowhere in sight when Sam Drucker's store is shown, making one wonder if either the tracks were moved or something became of the dear old Cannonball.
Ad blocker interference detected!
Wikia is a free-to-use site that makes money from advertising. We have a modified experience for viewers using ad blockers

Wikia is not accessible if you've made further modifications. Remove the custom ad blocker rule(s) and the page will load as expected.